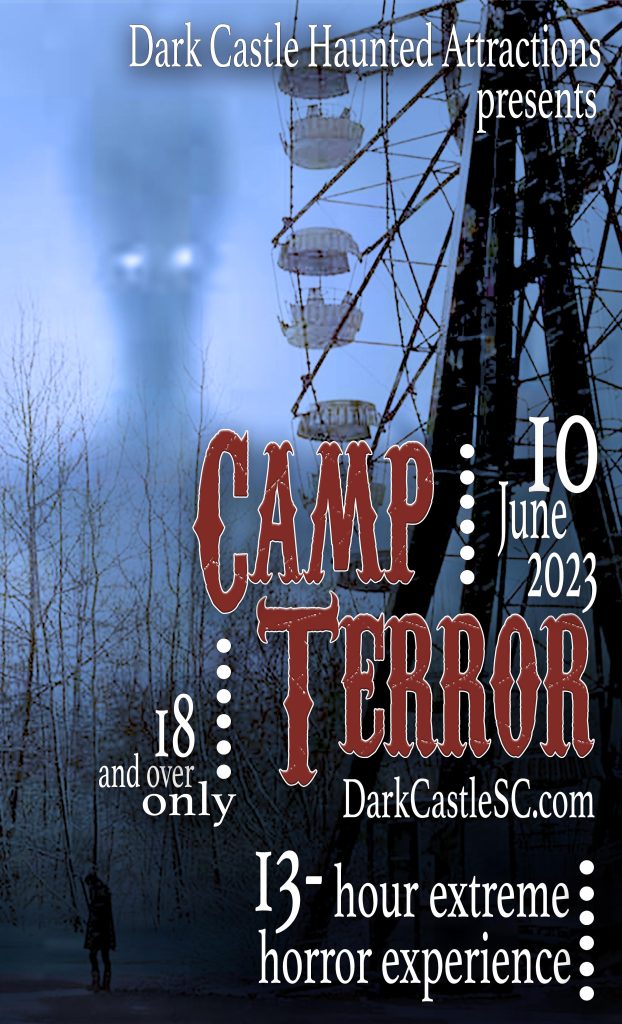 ---
During Camp Terror you may be forcibly handled, moved, bound, hooded, chained and subjected to simulated torture by our actors. You may witness strong verbal content, which may be considered offensive in nature. This content is part of the experience and is presented for entertainment purposes only.
You will not be placed in real danger at any time.
Persons under 18 years of age will not be admitted.
Participation is an individual experience and will not be the same for all campers.
2023 Theme: Camp Circus
What to expect: We have curated a specific and particular collection of contorted sideshows, group games and individual horrors to thrill, chill, and entertain!
You'll arrive at The Castle gates shortly before sundown, where you will be met with dinner and a show, get your tents ready (not that you'll see the inside of them much) and let the fun begin! We'll also supply the tents.
Activities on the docket include, but are not limited to, escape games, competition events, and "sideshows" catered to your individual fears also a break from tension (maybe) for s'mores by the campfire. After 13 hours of immersion, we will provide breakfast as the sun comes up… assuming you've made it through the night.
---
INTRODUCING…
Pants! The clown.
Get ready to be entertained!
NEXT STEPS….
Tickets on sale NOW!
Only one (1) ticket may be purchased per transaction, due to the required registration process.
---
CAMP TERROR GALLERY