GET TICKETS
---
Click on the buttons above to purchase tickets. For more information about ticket options and pricing, keep scrolling.
ATTENTION: Online ticketing will be UNAVAILABLE during box-office hours. Tickets will be available for purchase at the door only during our hours of operation. Discounts and coupons must be claimed at the box-office.
HAUNTED ATTRACTION PRICING
---
Our haunted attraction boasts THREE separate events with ONE ticket price of $25 per person!
First, you'll step into our Dungeon of Darkness haunted house to see what's lurking behind the castle walls. Next, you'll take action with our interactive zombie survival scenario where YOU are armed with a laser gun to clear the area of the infected.
Then, you'll explore the Dark Knight's realm on a fully guided outdoor trail through the woods.
Please, arrive within your ticket time slot.
If you purchase 8 tickets or more, use the promo code QUAKE to receive $2 off each ticket!
R.I.P TICKETS
---
With our REALLY IMPRESSIVE PACKAGE you'll get the VIP treatment!!
This includes entrance to all three Haunted Attractions.
You will go straight to the front of the line and receive a custom made DARK CASTLE item, chips, and a drink when you arrive. You will also be granted admission into our exclusive RIP Lounge where YOU get to see behind the scenes and even scare the other customers!
Price: From $48 to $63 depending on the date.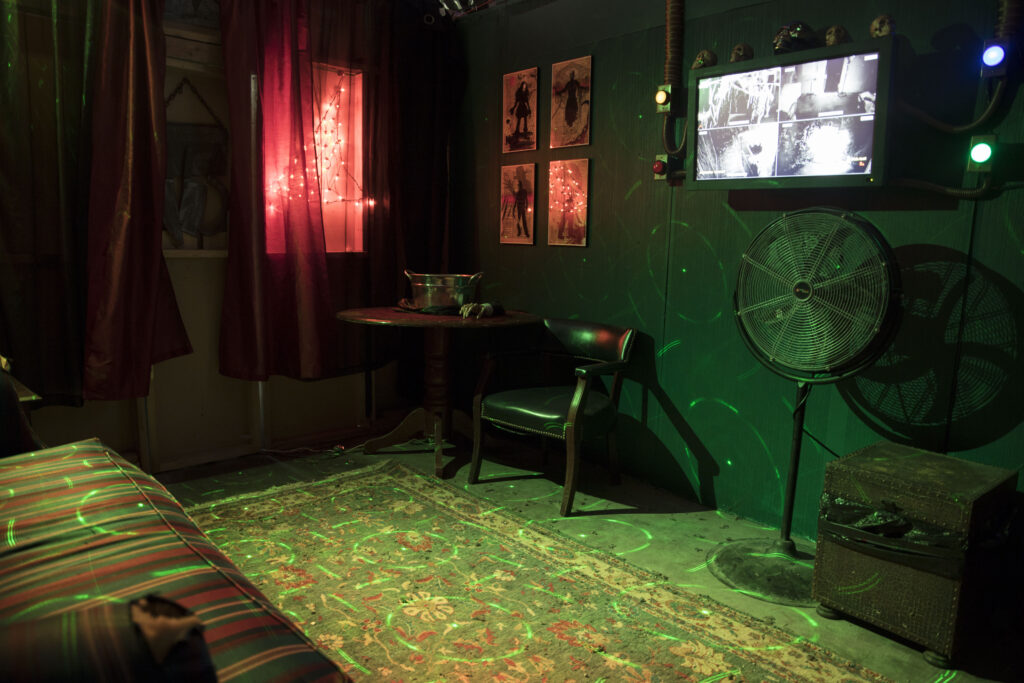 The RIP Room: Use the buttons on the wall to control scares throughout the haunt.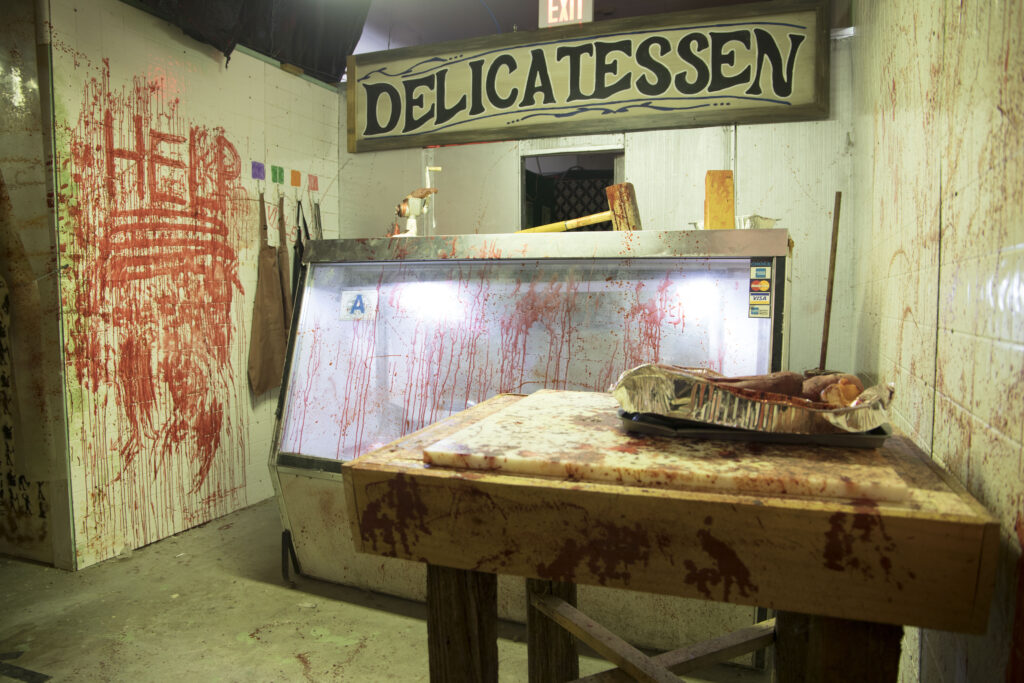 The Butcher Shop: Get into a costume, jump into the scene and scare away!
ESCAPE ROOM PRICING
---
Tickets for the 5 minutes Escape Room can only be purchased on site.
$5 per person or $8 for two people.
BREAK ROOM PRICING
---
Single Smash – 1 person, 12 small breakables & 1 electronic, 10 minute time limit: $20
Couple's Smash – up to 2 people, 24 small breakables, & 1 electronic, 15 minute time limit: $30
HULK Smash – Up to 2 people, 24 small breakables, 2 electronics, 1 large item (toilet, washing machine, large TV), 25 minute time limit: $50
ONLINE ESCAPE ROOM
---
We also offer online escape room experiences at Castle Escapes. Play via Zoom from anywhere.
In "Hunt for The Crimson Fang', a lone vampire hunter has been separated from their unit and now requires support to defeat the bloodsucker in charge. Book your game now. 60 minutes of running time.
In 'Alone in Ward 6', an intern is helping show off the Marley Center for Mental Health to investors when he gets trapped in the psych ward with the institution's most dangerous inmate: Kevin. Can you escape from the clutches of a killer? Use your wits to outsmart the trap-setting psycho as he roams the darkened halls of Ward 6. Will you help the intern make it out alive, or will they be Kevin's next victim?
NEED TO FIND OUT MORE?
---
Email us at [email protected] or call (803)309-5586 for more information.